Welcome to SkateparkArt.com / Jaymeer.com Artist of Multiple Mediums
Updated: March 2017 This is only a sample of my work. Remember, keep in the grind letting your dreams never DIE!
Support Burnside D.I.Y. gofundme.com/Burnside
Support your Local Bridge Park or DIY. MarginalWayDIY gofundme.com/marginalwaydiy
FACEKOOK JAY MEER (FIND ME) iNSTAKOOK @JAYMEERICLE
All artwork is original, the concept, graphic design, photography, website, everything was created & © by Jaymeer unless noted.
Scroll down, Select photos, Get inspired!
Services - Clients - Bio - Statement - Exhibition History - Resume - Events - Products & Fine Art - Interviews - Quotes - Skateboarding - Downloads - Links
SKatepark Murals

coming soon!

Products

Current Events/Fundraisers:

LINK TO HIPHOPSMELLZ THE FRESHEST AIRFRESHENERS AROUND! Spraycan & Turntable Shirts Available!

Past: Burnside XX Year Birthday/Anniversary

The Benefit for Marginal Way Skatepark event was great! Amazing Artwork & a good time. The Raffle raised over $500 The Art Auction raised over $1000. Surprise Guest Artist Bigfoot came through and donated a framed print. Also thanks to additional sponsors that didn't make it onto the flyer XXX Skateboards, Diamond Dist. , Force Trucks. We raised over a truckload of concrete, look forward to some new sections to skateboard for the park this summer. Thanks for your support!

Featured Artist

Section coming soon!

"LEON" D.S.M. photos soon!
Thank you, for visiting my sample online portfolio, please feel free to contact me for freelance work, commissions or questions! JayMeericle@yahoo.com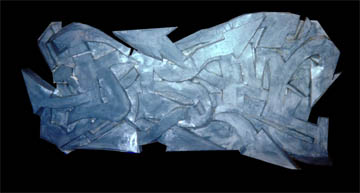 D.S.M. DA SKILLS MANIFEST 3' X 5' Dimensional mixed media 1999